We carry retractable screen doors that vanish into a concealed housing to one side of the door. It slides out easily when you need it, and retracts back into its housing when you don't.  The beauty of retractable screen doors is that they are not an unsightly object covering your door, instead they blend into their surroundings so none of your outside aesthetics are lost. These retractable screen doors are made to last years of opening and closing, for years of enjoyment. Retractable screen doors can even be re screened in the instance of your screen getting damaged or torn.
All About Screens carries two high quality  retractable screen door brands,Phantom Screens and Clear View Screens. Both of these brands are the best in the industry and are made out of high quality aluminum with a powder coat finish that encases a flexible mesh that rolls up inside. These screen doors can be custom fit to just about any opening. Retractable screen doors provide the utility of a conventional screen door with none of the unsightly results by blending in with its surroundings.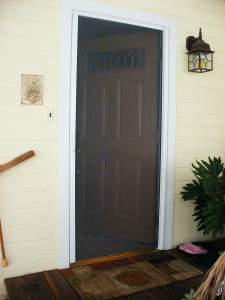 Components
High quality components to ensure years of smooth operation.
Slide bar, housing and track system made from high quality extruded aluminum.
Powder coating finish resists fading and chipping.
Sturdy, UV resistant nylon fittings.
Fiberglass mesh coated with PVC for enhanced durability.
Built-in handle and latching mechanism.
Available in most sizes.
Colors available = Rideau Brown, Driftwood Beige, Sandal Wood, Slivered Almond, Classic White, Coastal Grey, Hartford Green, Phantom Black
Retractable screen doors are the equivalent of having a sliding screen door but without having the bulky framing of a swinging screen door because it rolls up nicely into its housing, leaving a clean, almost unnoticeable look to your home.