We offer Pride brand pet doors.  The pet doors are made of flexible heavy duty rubber that will not crack in winter or warp in the summer. The magnets are embedded into the rubber for energy efficiency.  The strong extruded frame is available in five rustproof colors:  Anodized Sliver, White, Bronze, Black, and Tan. The safe tempered Masonite closing panel fits on both frames.
Our sizes accommodate your pet from a  small cat to a large dog.   An easy measuring rule is that the pet door should be one  half inch wider than the width of the pet's shoulders.  Our doors have openings of 4  ¾" x 7 ½" for cats and small dogs up to 4 ½" across the shoulder, 8 ½" x 12 ½" for  your pet up to 8" across the shoulder, 11 ½"  x 16 7/8"  for your pet up to 11″ across the  shoulder, and 14 ½" x 19 ½" for your pet up to 14" across the shoulder.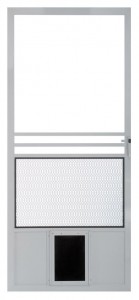 Pet doors can be installed in both swinging and sliding doors.
Deluxe Door Specifications:
SD-300
Flap Size – 4 3/4 x 7 1/8
Rough Opening – 7 9/16 x 9 5/8
Overall Size – 9 1/8 x 10 1/2
MD-400
Flap Size – 8 1/2 x 12 1/2
Rough Opening – 11 1/8 x 14 7/8
Overall Size – 12 5/8 x 15 3/4
LD-500
Flap Size – 11 1/2 x 16 7/8
Rough Opening – 14 x 18 7/8
Overall Size – 15 1/2 x 19 3/4
XLD-600
Flap Size – 14 1/2 x 19 1/2
Rough Opening – 17 1/4 x 21 7/8
Overall Size – 18 3/4 x 22 3/4