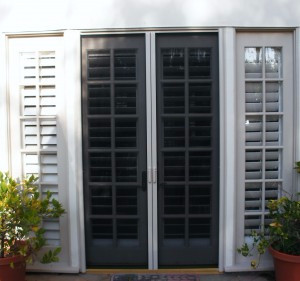 We carry two high quality screen door brands, Phantom Screens & Clear View Screens. Both of these brands are the industry standard for best in quality aluminum with a powder coat finish that encases a flexible mesh that rolls up inside. These screen doors can be custom fit to just about any opening.

These doors are the highest quality doors available on the market, made without flaws and constructed with expert craftsmanship. Their quality construction makes them a pleasure to open and close day in and day out. Screen doors that are durable, built to endure years of opening and closing. Swinging screen doors are a great addition to any entry way.
These doors are designed to last longer, with better door components such as the steel ball bearing wheels, metal door handles with metal latch (Not Plastic Handles like Other Brands that Sun Rot & Break) and quality materials like the extruded aluminum framing, all rolled into one great sliding screen door.